So I took time to measure pointer lag under OS X Yosemite with my point-and-shoot camera Nikon J1, which captures 1193 frames per second in slow-motion mode. 
The test is very simple: I place the mouse (SteelSeries Kana, 1000Hz, 3200 DPI) on the same level as the on-screen pointer, so it's visible in the background, and then push the device with a pencil (Centrum… just kidding). Then I can use a video player that supports frame-by-frame viewing such as VLC, or a video editor, such as Adobe Premiere, to count frames between moves. My camera can only output low resolution and highly compressed videos while in slow-motion mode, and due to this my measurements can be inaccurate for up to 3 frames (≈2.5ms).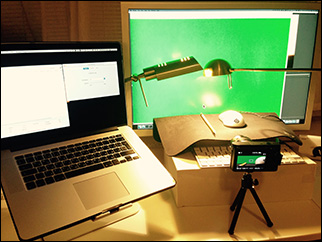 I've carried out 18 tests in total: 9 with OS X Yosemite handling pointer movement and 9 with SmoothMouse handling pointer movement.
Average lag without SmoothMouse: 45.01ms.
Average lag with SmoothMouse: 28.16ms.
I think it's safe to conclude that SmoothMouse reduces lag by 16ms.
Samples of footage: without SM and with SM (≈15MB QuickTime .mov).
* * *
But why does it lag? I've measured the lag just to confirm its existence, but I'm not a specialist in computer graphics and I wouldn't want to confuse visitors with a semi-accurate explanation. If you have clear understanding of how display/window servers work, and you can explain the problem in layman's terms—please be my guest!
(On a side note, I love how Grace Hopper used to explain nanoseconds).