I wrote a tiny AppleScript application which pastes text into fields which do not allow Cmd+V pasting (like password prompts). This may come in handy when working through VNC/remote desktop or virtualization software (such as Apple Screen Sharing, Parallels Desktop etc). Personally I use it to type in my password into the login screen of the Windows virtual machine.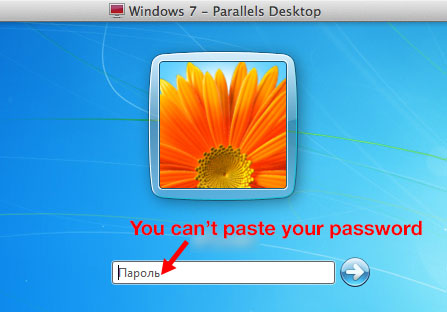 To put it in simple terms: the app uses the virtual keyboard to type in the text from your clipboard. It tricks the program that asks for your input into thinking that you're actually typing on your keyboard.
The downside of the app is that it occupies space in the Dock.
Download Force Paste.app (~15KB). Don't forget to drag it into your Dock!
(Advanced users may want to use it from the Script menu rather than the Dock. Download main.scpt and put it to ~/Library/Scripts/ directory).
GitHub repository: https://github.com/EugeneDae/Force-Paste
Important note to macOS Mojave users: if you're getting a "not allowed to send keystrokes" error, simply add Force Paste.app to System Preferences > Security & Privacy > Accessibility. See issue #7.