BizonBox is a Thunderbolt enclosure for PCIe videocards, assembled by Russian company Bizon specialising in selling Hackintoshes and hardware upgrades for Macs. I had a chance to get my hands on one of these devices.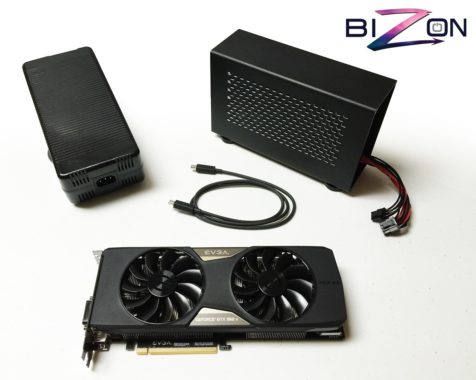 First things first, Bizon did not create neither the enclosure nor the drivers (more on that later). The enclosure is AKiTiO Thunder2, slightly modded to fit long videocards and packaged with a massive Dell power brick and a manual. Bizon certainly do not deny that, but they mention AKiTiO only in their YouTube video descriptions.
The fact that they charge a premium over the retail prices of the components makes some people angry, but isn't that how businesses work? That said, I can understand the irritation over cashing in on using someone else's work without giving a proper credit.
Setup
The videocard I chose (GTX 980) doesn't work in macOS without the special drivers from Nvidia (aka Nvidia Web Driver). I've heard some of the modern AMD cards can be flashed to work with the drivers that come bundled with macOS, but I chose Nvidia for CUDA.
Each time you install a macOS update (including small security updates) you have to re-install the driver or it won't work. This is not very convenient to say the least.
The driver has to be installed in a special way to work with an externally connected videocard. You can do this by running a script called automate-eGPU.sh, made by Goalque (so not Bizon either).
automate-eGPU.sh requires you to disable System Integrity Protection. Creepy, huh?
Unplugging or turning off the device while the computer is running would make the computer freeze with a kernel panic. This is true for both macOS and Windows. Plugging the device into a running system works fine though.
Acceleration
When BizonBox works, it really does speed up professional applications and games pretty much as advertised.
You need an external monitor to take advantage of GPU acceleration in games, at least in macOS. It won't accelerate games running on the built-in screen of your Mac. Some professional applications (such as DaVinci Resolve) can take advantage of GPU acceleration without an external monitor.
I was able to get amazing results in DaVinci Resolve on my MacBook Pro (Retina, 15-inch, Late 2013): thanks to the videocard, raw 4K footage playback went up from 8 frames per second to 24.
At the same time I haven't noticed any substantial difference in Adobe Premiere CC. I haven't found any GPU acceleration settings (besides ones in the project settings) or diagnostic information to confirm that Premiere could actually use the new videocard.
Compatibility & caveats
BizonBoxes do not work with all of the Thunderbolt-equipped Macs. Some Macs are more 'problematic' than others. Bizon's English FAQ doesn't reflect that, but its Russian version does. E.g. the device doesn't support external monitors when connected to iMac 2015. It doesn't work in macOS on MacMini 2011. If you're considering buying BizonBox, it might be a good idea to contact Bizon sales beforehand to verify that your particular Mac model is compatible with the device.
It worked well with my MacBook Pro (Retina, 15-inch, Late 2013) except for one thing: the built-in display would show a distorted picture after a reboot. I had to shutdown the computer, turn it back on using the power button and things would get back to normal.
I've ran into all kinds of problems with our iMac (Retina 5K, 27-inch, Late 2014) at work. After the installation, the iMac's display resolution turned into a square. I contacted Bizon tech support and they sent me a different version of the script, which solved the problem. (Another workaround by Netkas). Then I found that BizonBox 2 with GTX 980 didn't accelerate anything on that iMac. In fact, it performed slower than the iMac's own built-in GPU (AMD Radeon R9 M290X). DaVinci Resolve raw 4K footage playback went from 24 frames per second on the built-in GPU down to 17 frames per second on BizonBox 2 + GTX 980. This is weird, because the same box performed very well with MacBook Pro. Bizon tech support was clueless.
BizonBox is said to support Bootcamp/Windows too, but it varies per Mac model.
You can't use the second Thunderbolt port on BizonBox for anything.
Conclusions
External GPUs are a real thing.
BizonBox 2 strikes me as a "beta" product that is functional for the most part, but kludgy and fiddly, i.e. certainly not something you can "plug in and forget".
Neither Bizon nor AKiTiO are to blame for that. Only Apple can pave the way for an external GPU that would be easy to use with a Mac and have a mass-market appeal.
If your work is being held back by the GPU power of your Mac (e.g. you're working a lot in DaVinci Resolve on a MacBook Pro), you can't or don't want to upgrade (or save up for an upgrade), perhaps you can justify the purchase of this device.
If you're a gamer just buy a fucking PC.