I've been recently scammed by a French e-shop called Chrono Informatique (chrono-informatique.com) from Agen, France. They sold me a dead power supply for Synology NAS 2413+ and refused to refund after I sent it back, claiming that I opened and damaged it myself. Although the unit had been listed as "new" on their website and eBay: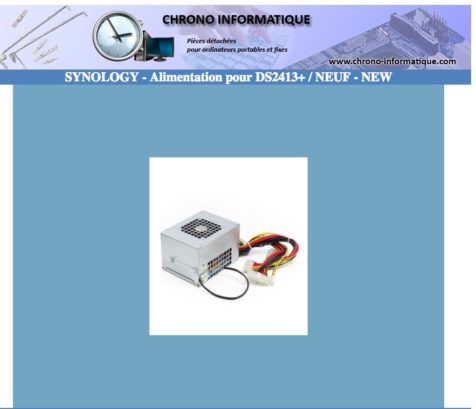 it had, in fact, obvious signs of prior use — dusty, crumpled cables etc. I bought it through the their website, so I can't even open a dispute with eBay/PayPal. This is probably why they chose to pocket my 250 euros, giving me this ridiculous runaround:
A component is broken inside, clearly visible from exterior, impossible that we send something in this condition. This supply is not the one we sell… it seems that you made some mistake with another provider. Anyway even if it is our product, the fact that it was opened cancels the guarantee.
Riiight. They were like the only e-shop in the world that carried that exact power supply.
Hope this will appear in Google search results and saves someone money. Do not repeat my mistake, do not buy from Chrono Informatique.