Once I tried to change the default startup disk on my Mac running Snow Leopard and the following error appeared: "you can't change the startup disk to the selected disk. Building boot caches on boot helper partition failed".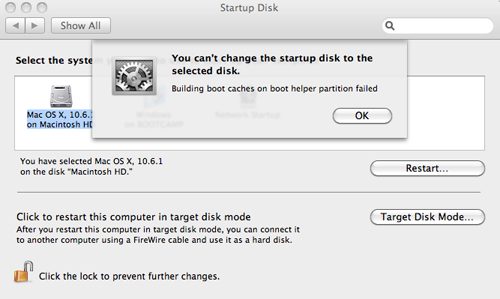 At first I was trying to figure what's a boot helper partition and where do I find it, but eventually I decided to take a look at com.apple.Boot.plist file, which appeared to be non-existent in it's regular place.
So I created one by myself. In Terminal:
sudo nano /Library/Preferences/SystemConfiguration/com.apple.Boot.plist
There inserted the default code:
<?xml version="1.0" encoding="UTF-8"?>
<!DOCTYPE plist PUBLIC "-//Apple//DTD PLIST 1.0//EN" "http://
www.apple.com/DTDs/PropertyList-1.0.dtd">
<plist version="1.0">
<dict>
	<key>Kernel</key>
	<string>mach_kernel</string>
	<key>Kernel Flags</key>
	<string></string>
</dict>
</plist>

(Cmd+X to save the file).
This solved the problem for me.